Synopsis:
Archer Dean taught me how it feels to be loved. Really loved. The happily ever after, fairy tale type love. But he also taught me what real heartbreak was. He ripped away my happiness, took it from me without a backward glance. He left me alone and broken with no idea how to rebuild. No fight left in me to want to.
Annabelle Edwards was a light in my world of darkness. She changed the way my heart beat, she let me believe in love. But the thing about darkness is that it's suffocating and without warning, the light that you rely so heavily on, can be extinguished by the power of your own shadows.
Our story is about pain. About fighting through feelings that can sometimes be greater than love.
Fear.
Anger.
Hurt.
Sadness.
Our story is aching. It's passionate. It's consuming.
We've felt loss. Felt abandoned by one another. We've felt betrayed. Lost. But we fought. Against our love. For our love. Together. Apart. We've done it all. We've fought for our love to exist. For it to survive.
It's been a broken road. Hopeless at times. Full and seamless at others.
We've been through hell and we have to trust that our love is strong enough to overcome anything
Review:
I'm torn. Broken. Ripped raw open.
I don't know why I do this to myself. I always know stories like these will destroy me, still I jump in and later I scold myself for it.
I resent her. I despise her. I need her. I hate her. But fuck me, I love her. 
Cold, ruthless heroes has always kind of done it for me. Archer was a whole new level of asshole tough. I mean, at one point I wished I could just reach in and give his brain a little shake to put some fucking sense into him.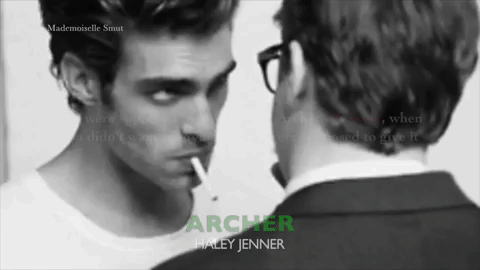 Annabelle Edwards lost both parents at a young age. Since then she's been raised by her gran. More than often, she babysits Jake who is little brother of Archer Dean. She's very close to their mother, Janie, and Jake and she loves them like family. She despises Archer for his attitude, and how he doesn't put his family first makes. But after years, when Archer returns home, he's different and kind towards her. She's always found him attractive but he's always seen her as his kid neighbour. Not anymore.
"What do you think will hurt less? Could you do it? Break your own heart? Or would you make me do it?" 
Archer Dean is damaged. He's angry and mean. After a tragic loss, he leaves his family and home and joins the army. He returns to Carnation five years later, a little happier, a little lighter. That's when he sees Annabelle again. Older and beautiful Annabelle who lightens his world with her sass and jokes.
When their relationship has grown from hate to love, it's time for Archer to leave again. Only when he comes back he's more damaged than ever. He's drinking and starting fights, sleeping in a jail cell, hating on Annabelle.
I applaud Annabelle for her commitment to stand by Archer and for trying to help him. She was strong. Having to face the love of her life treat her like shit for years. This is a love story you will hate and love. At times I wanted to hit Archer with a chair just because of how he hurt Annabelle and his family.

Archer treats me no better than a doormat, hoping he's break through whatever he's dealing with. Wishing with everything, that even the smallest snippets of my Archer would return. 

This story was full of pain. So much pain it suffocated me. I got sucked in from the first page and I knew I was in for a angsty ride. I cried while reading their story. It was angry, beautiful, passionate and confusing but it was so real. I loved the minor characters and absolutely adored Jake and Annabelle's friendship.
"I refuse to give up on what we have, Archer. I love you," She finishes on a whisper. 
If you love your heroes distant and cold, this is certainly a story you will love. WARNING: Have tissues close 'cause you gonna need 'em, honey.